Tour Schedule
January 28th
Vicky Who Reads (Welcome Post) & Shealea @ Shut Up Shealea (Review)
January 29th
Jessica @ Endless Chapters (Review + Favorite Quotes)
January 30th
Lily @ Sprinkles of Dreams (Review + Favorite Quotes)
January 31st
Zoë @ If the Book Will Be Too Difficult (Interview)
February 1st
As Told by Zaheerah (Review + Playlist)
February 4th
Vinny @ Artsy Draft (Review + Aesthetic)
February 5th
Erika @ The Nocturnal Fey (Review + Favorite Quotes)
February 6th
May @ Forever and Everly (Review + Aesthetic)
February 7th
CW @ The Quiet Pond (Review + Creative Interview)
February 8th
Bookevin (Review + Creative Post)
The Weight of Our Sky (ARC)
Author: Hanna Alkaf
Publisher: Salaam Reads / Simon & Schuster
Expected Publication Date: February 5th, 2019
Genre: Middle Grade, Young Adult
Pages: 384
Format: E-book (Hardcover)
Characters: Melati, Vincent, Auntie Bee, Frankie, …
Melati Ahmad has imagined her mother's death countless times. Plagued by gruesome thoughts she believes are put into her head by a djinn, Melati has developed an intricate set of tapping rituals to tame the monster within and keep her mother safe.
But there are things that Melati can't protect her mother from. On the evening of May 13th, 1969, racial tensions in her home city of Kuala Lumpur boil over. The Chinese and Malays are at war, and Mel and her mother become separated by a city in flames.
With a 24-hour curfew in place and all lines of communication down, it will take the help of a Chinese boy named Vincent and all of the courage and grit in Melati's arsenal to overcome the violence on the streets, her own prejudices, and her djinn's surging power to make it back to the one person she can't risk losing.
Reading this book took me quite some time as it really evoked all sorts of emotions in me. As a Malaysian, I felt so much for Melati's and Vincent's story. I needed to take breaks in between the story because at times, it was just too overwhelming. With that being said, this book is so so GOOD.
I really like the plot development of the story. One can definitely see the progress of the story, the characters and the whole movement from one setting to another plus the timeline, everything makes so much sense and it was truly a journey I'm glad to be part of. It's just that towards the ending when Melati went to find her mother, for me, it was somewhat unnecessary or lengthy but I liked the fact that, even in between the searching of Melati's mother, Hanna (the author) inserted the value of unity whereby when time is tough, we look past religions and accept anyone from any religion into our place of worship. No religion teaches us to be racist, it teaches us to be merciful and help one another.
I love all the characters and the diversity. It's the reason why this book is so special. I felt like almost all of the characters have significant changes and growth in the book. For instance, Melati who eventually overcame her anxiety and became somewhat braver than before. We have Frankie who is one of the character that had been through so much changes and to see him transformed is really inspiring. *I'm gonna cry as I was drafting this post*
Another thing that I liked about this book is that even though the story discussed about the riots and the ugly side on the tragedy of 13th May in Malaysia, unity still existed. People of different races were helping one another even in the worst time. For example, how the 3 races: Chinese, Malays and Indians helped one another out. It showed that Malaysia was never truly torn apart.
Of course, there is also representation of OCD and anxiety throughout the book, which we could see through Melati. You will learn something about Djinn existence and how back then, people did not have the knowledge and much exposure on anxiety, but they believe in Djinn instead. The feeling of anxiety and OCD was raw and genuine. It made me feel what Melati felt and I think it was done brilliantly in putting the readers into our main character's mind.
Last but not least, I am very thankful to be part of this blog tour and able to write a review about my feelings regarding this book. As a Malaysian, this book feels extremely close to heart. It feels like home.
"Di mana bumi dipijak, di situ langit dijunjung. Have you heard of this before? It means where we plant our feet is where we must hold up the sky. We live and die by the rules of the land we live in. But this country belongs to all of us! We make our own sky, and we can hold it up – together."
– Hanna Alkaf, The Weight of Our Sky
As a Baba Nyonya or Peranakan (if you wanna know more about my identity, feel free to comment below or dm me), I was raised in 'kampung' or village, I mingled with the Malays, hence I could relate with Vincent and his family. As we live in a 'kampung', we did it their way. I went to a Malay kindergarten and recited the du'a or prayers before our meal during recess time in the kindergarten. Because it's weird for other kids to do it but not me. Coming back to the book, I felt that was how Vincent and his family had to carry themselves among the Malays but that didn't stir any racism issue or hard feelings. It's just that sometimes, we may not entirely felt belong but this is home, this is where we were born and raised.
"…, I remember my history teacher Puan Aminah pointing out the obvious Hindu influences in the ruling kingdoms of ancient Kedah, the marriage of the sultan of Malacca to the Chinese princess Hang Li Po. "Do not ever let anyone tell you that you do not belong here," she had said looking at us intently. "We all do. There is space for all of us."
– Hanna Alkaf, The Weight of Our Sky

Malaysia is a multicultural country, our history was formed of all different culture and rich with diversity. For that, I love this quote a lot. It mirrors Malaysians and who we are. I still remember every time during history classes and when the name Hang Li Po appeared, I'll be called out by the teacher as Hang Li Po, because of my identity as Baba Nyonya, it is said that my ancestors had mix marriages (of Malay and Chinese), just like Hang Li Po and sultan of Malacca.
"But why though?" Vince says, his voice rising. "Why now? When did it get so bad? My friends and I, we're all different races, nobody says, Oh, you're Chinese, we can't be friends, or Oh, you're Malay, guess you're on your own, then. That's stupid."
– Hanna Alkaf, The Weight of Our Sky

This is also one of my favourite quote. I could see myself in Vincent's voice. This is what I always think of all the time whenever a racism issue occurs in Malaysia. Growing up, I never face such a problem. We all mingle around just fine, Chinese, Malay, Indian, even those from the East Malaysia, we respect one another and get around pretty well. So, the question, why and how did those racist comments come about, I really have no idea.
Overall, I'd highly recommend this book to everyone out there. I hope that this story reaches out to everyone around the globe and that you can see what I see, feel what I feel.
With that being said, you may purchase this book at:
Amazon | Goodreads | Barnes and Noble | Book Depository | IndieBound | Bookalicious!
---
Tour Giveaway
The prize: a copy of The Weight of Our Sky & a Kampung House coloring book!
The colouring book consists of gorgeous line drawings of wooden kampung houses that would have been common in 1969–more info here!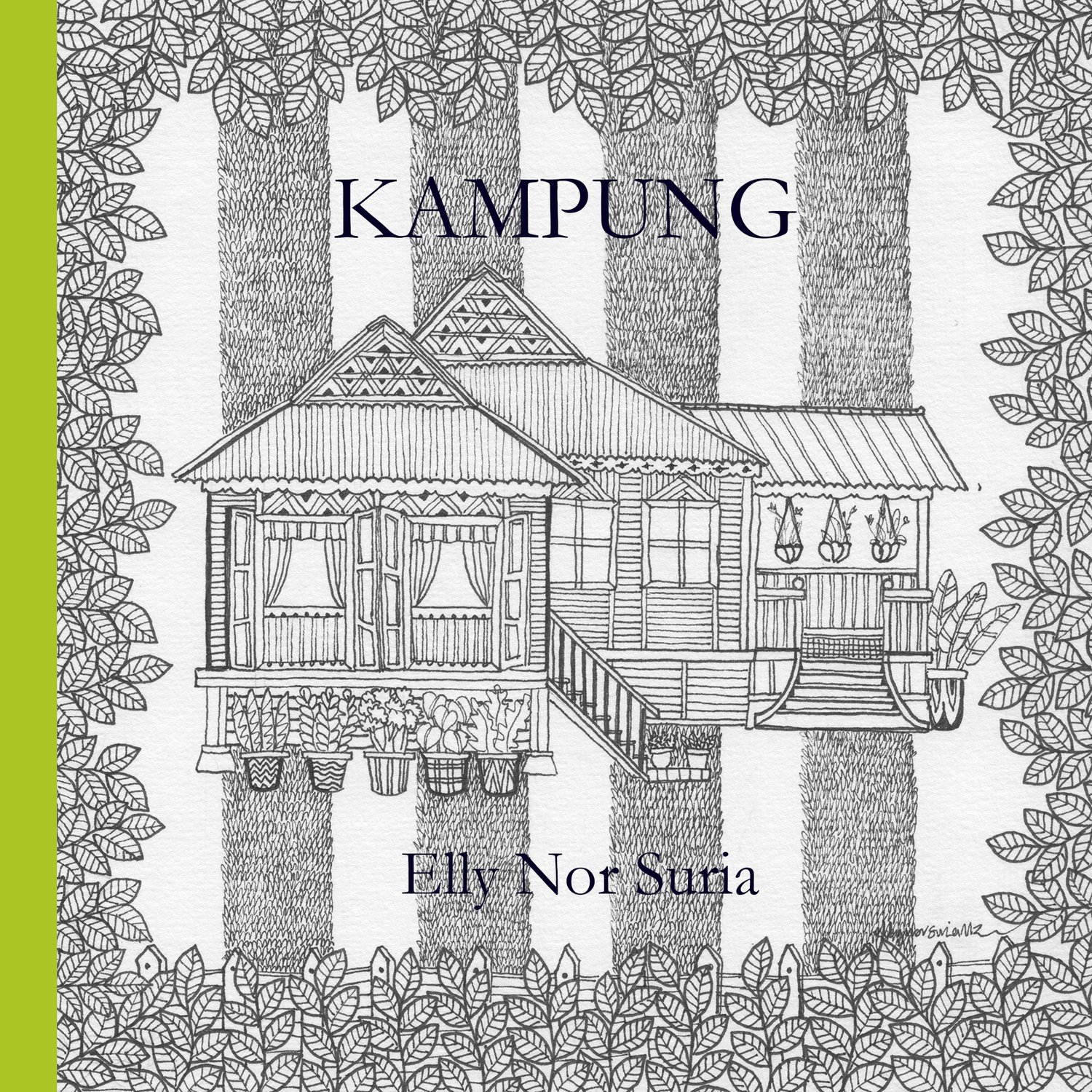 Link to Rafflecopter: http://www.rafflecopter.com/rafl/display/f86ac49b10/?
US / Internationl Pre-Order Giveaway
Preorder or request The Weight of Our Sky from your local library to receive:
an enamel pin designed by Rizal Aziz

a bookmark

a signed bookplate illustrated by Hanna Alkaf

a pop-up card featuring scenes of old-school Malaysia from Loka Made, illustrated by Fei Giap
For more information, check out the full preorder giveaway here! 
Malaysian Bookalicious! Preorder Giveaway 
Preorder your special signed copies of The Weight of Our Sky in either paperback or hardcover from Bookalicious! to receive
a bookmark (paperback)

a bookmark and enamel pin (hardcover)
(Please note that preorders through Bookalicious! come with their own giveaway items and are not eligible for the US/INTL giveaway.)
Find more information on the prizes here!
Find more information on the Bookalicious! promotion here!
---
About the author
Hanna Alkaf graduated with a degree in journalism from Northwestern University and spent over ten years writing everything from B2B marketing emails to investigative feature articles, from non-profit press releases to corporate brochures. She worked in Chicago as an online copywriter for several years upon graduation before coming home. She's been a senior writer at Marie Claire Malaysia, the communications manager of education non-profit Teach For Malaysia, and a freelance journalist. Her articles have appeared in the Malaysian iterations of Marie Claire, Shape, and Esquire, as well as a host of other media both print and online.
Hanna now spends her time making it up as she goes along, both as an author of fiction and as a mom. THE WEIGHT OF OUR SKY is her first novel. She lives in Kuala Lumpur with her family.
Website | Goodreads | Twitter | Instagram