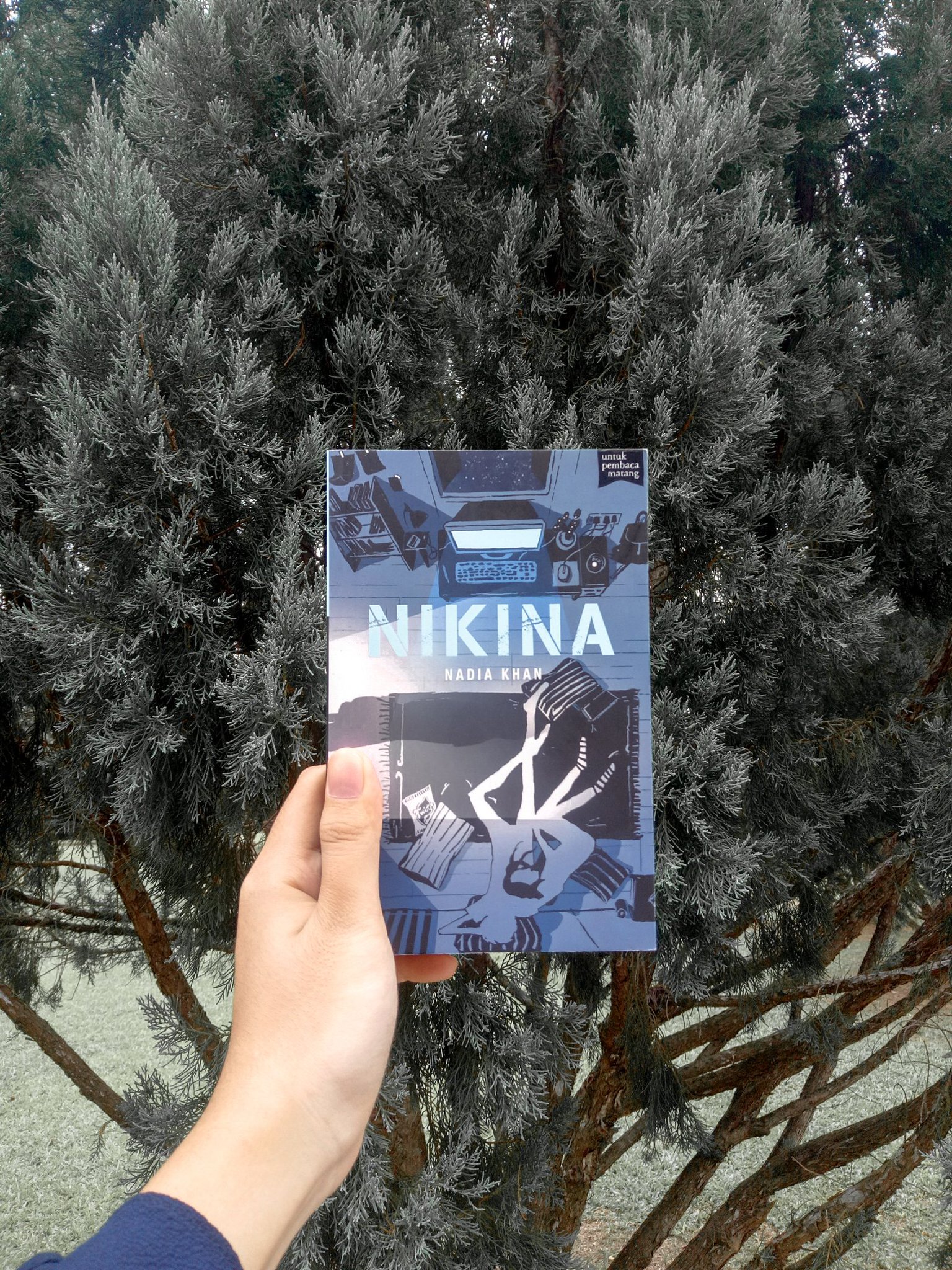 Nikina
Author: Nadia Khan
Publisher: Buku Fixi
Released: March 29th, 2019
Genre: Fiction, Contemporary
Pages: 248
Format: Paperback
Characters: Kina (Kartina), Nik, Dini (Houdini), Sara, Huda, Chrissy, …
Malay
"Apa main gabung-gabung nama macam ni? Kamu tahu tak, ini dikira zina nama! Haram buat macam ni!"
Ustazah Suhaila menempik di dalam kelas ketika ternampak Kina sedang khayal menulis namanya dan nama Nik berulang-ulang dalam pelbagai corak di atas kertas contengan – NIKINA, NIKINA, NIKINA…
Kata orang cinta monyet takkan berkekalan. Tapi bagaimana kalau cinta monyet kita berjaya berevolusi menjadi cinta manusia?
Source: Goodreads
English
This book follows Kina and Nik who go back and forth on their love story. This story slowly builds up to a tragedy that happened to them, which caused them to separate for 5 years, despite being married to one another.
So, was it just puppy love or are they really destined to be together?
Before I start this review/ discussion, it's going to be spoilery and this is going to be a full blown discussion because I just need to let everything in my head out on this post. With this being said, I review this book solely on the content and my feelings towards this book and not towards the writer (because she's so friendly the last time I met her). I also loved her previous books, Gantung and Gantung 2, but Nikina seems like a huge miss for me. However, many have been giving this book a 4 or 5 star rating on Goodreads, only a handful gave a 1 or 2 star rating, so I definitely belong to the minority and for those who enjoy the book tremendously, good for you. I'm just here to deliver my reasons on giving it such a low rating.
I usually will start my review with English first, but I thought this time around, I would write in Malay language first and English after it. So enjoy!
Malay
Sebelum beli Nikina ni, aku dah tahu yang buku ni bukan genre biasa yang ditulis oleh Nadia Khan sebab buku ni more to romance, love story. Tapi disebabkan the hype and aku minat gila dengan Gantung duology, aku decide untuk beli Nikina masa PBAKL 2019. Lepas tu, sebelum aku baca buku ni pun, banyak yang cakap buku ni best giler, comel and gushing about it, so I thought, "this book must be really good." Tapi as soon as aku selak muka surat pertama buku Nikina ni, guess what? Aku dah annoyed dengan Dini.
Disclaimer: Semua kritikan dan segala pujian is just based on my feelings dan pendapat aku, so kalau pendapat kita berbeza, aku tak boleh nak buat apa. It is what it is.
Watak
Jadi, moh le kita bincang mengenai watak dalam buku Nikina. Dini, mula je story, aku dah annoyed dengan dia. Aku rasa dia ni desperate, insignificant dan watak dia berkembang siiiikiiiiit je, tu pun dah dekat penghujung cerita. Apa je yang dia buat dalam buku ni: obses dengan Kina, siasat pasal Nik dan Kina, contact Huda, berbual dengan kawan dia, Bunjut and that's all. But at least watak Dini konsisten; annoying and obses dia dengan Kina almost sampai ke sudah, tapi lepas dah sedar cinta dia memang takkan berbalas, dia move on la, which is a good thing, at least ada character development for Dini kat situ.
By the way, semua watak dalam buku almost takde character development and to be honest, aku tak suka any of the characters dalam buku ni, kecuali Huda, adik Nik, sebab dia kot yang paling matang dan pandai pikir, even though dia sensitif kekadang tu pun sebab dia tak tahu the whole truth. Next, Nik, hero dalam buku ni, bagi aku antara watak yang paling tak konsisten aku pernah jumpa. Aku keliru dengan watak ni, dia ni kejap nerdy, kejap serious, kejap nakal, kejap defensive but most of the time, dia sayangkan Kina (that's obvious) dan takde pendirian, selalu lost for words, Idk why. Dia ni bukannya dinamik or banyak personality, but perwatakan dia is simply TAK KONSISTEN. Mungkin sebab dia banyak adik-beradik kot, so dia macam terpengaruh dengan perangai adik-beradik dia, Idk?
Aku tengok la review orang lain cakap Kina ni strong, a good character tapi bagi aku tak. Kina masa muda sangat impulsive, dia hard headed and tak fikir panjang. Lepas ada Sara, anak dia dan Nik, mungkin dia macam ada mother figure sikit but that's all. Nak cakap dia ni strong menghadap dugaan Tuhan, aku tak setuju. Ada anak special ni, bukan setakat kau cakap "she's special, anugerah Tuhan" is enough, it's more than that. Ok, aku tak tahu la sama ada penulis buku ada tak pergi tanya parents with special kids macam mana rutin dia orang, perasaan dia orang, sebab dalam buku ni memang tak sampai feeling parents with special kids. Aku ada kembar OKU, she has Cerebral Palsy, to me, my mom is a strong woman, so aku tak rasa description for Kina handling her child is showcasing she's a strong mother.
Sara punya watak sayang gila tak di-elaborate dengan more detailed. Kalau Sara diberikan spotlight, bawa dia keluar rumah, going to school, face the society, buku ni akan jadi SOOOO MUCH BETTER, sekaligus Kina akan jadi strong mother figure, showing how she protects her child. Instead of that, penulis decide keep her inside the house, away from orang luar, keep her as a secret, dengan alasan sebab society tak faham. Tapi entah kenapa, aku rasa macam kurang research maybe? or nak cepatkan cerita? So, watak Sara ni macam sia-sia.
Gaya penulisan
Bergerak kepada gaya penulisan. Takde masalah dengan gaya penulisan penulis, santai dan senang dibaca. Aku dulu minat baca Gantung pun sebab gaya penulisan beliau yang sempoi, dengan spelling perkatan-perkataan BM dia yang tak ikut spelling yang betul, lebih kepada urban style mungkin. Aku enjoy baca. Masalah timbul bila ada Bahasa Inggeris. Penggunaan Bahasa Inggeris dia punyalah formal, seakan-akan janggal at certain parts. Like kalau two people are chatting, perlu ke type full?
Then, adalah ayat omputih dalam buku ni yang ada error ataupun boleh diperbaiki to make it sounds smooth instead of penuh mulut kalau nak sebut. Ada ayat aku kena baca dua, tiga kali nak bagi faham. Next, berkenaan pengunaan brackets -> (…) , mula-mula aku ingat untuk refer masa lalu, sebab ada lah penulis bubuh "(masa tu)" ataupun "(ketika tu)" dalam sesetengah ayat tapi konteks is clearly cerita pasal masa lampau so Idk why she did that. Pastu, aku discover sebenarnya yang dalam brackets is actually interaction antara watak dengan readers. It's quite interesting, cuma brackets ni buat aku serabut sikit masa baca but it's a nice approach.
Plot
Paling banyak spoiler kat sini, kalau korang tak baca lagi, mungkin tak semua perkara yang dikupas korang akan faham and boleh skip part ni kalau taknak spoiler.
Sesetengah buku, it's either character-driven OR plot-driven, some have both. So, buku Nikina memang takde character-driven dan sadly, it's not plot-driven too. Disebabkan buku ni ulang-alik antara masa lampau dan sekarang, apa yang penulis buat is basically goes back to Nik's and Kina's history to unfold kenapa dia orang berpisah dulu, nak bagi bina suspense. Basically, plot dia quite mendatar, except that one plot twist and there was like another, bukan plot twist tapi benda yang luar biasa, I guess? Aku masa tunggu plot twist happened, tak rasa suspense pun, I was like, "Bila laaaa nak sampai plot twist, lama benor." sebab buku ni 246 muka surat je, bayangkan dah halfway through, takde pun scene yang mengejutkan or special.
At around page 180, barulah reveal plot twist nya, shocking ah, dengan nama syndrome anak dia orang pun pelik gila, aku sampai google sebab curious. Tapi sayang seribu kali sayang, lepas plot twist tu, plot buku ni mendatar balik. I was like, shookt for 5 seconds, pastu everything just fell back into the routines. The twist tak bagi impak besar SEBAB penulis tak exploit bahan yang dia ada, which is the syndrome. Beliau just bagi explanation of the syndrome. Cerita sikit pasal kurniaan Tuhan la, she's special la, dia diasingkan from outside world. Like I said earlier masa aku cerita pasal karakter Sara, kalau penulis buat semua tu, plot twist ni akan bagi impak yang lagi signifikan. Pastu, ada satu lagi penyakit luar biasa yang dialami oleh ex-gf Nik. Chrissy ada satu kecendurangan untuk love more than just one person at a time (polyamorous), macam addiction and benda ni pun legit juga. Again, I'd like to see more of that, but nope, instead penulis just explain pasal polyamorous and that's that.
Ending buku ni, for me, ada one word je. Meh. Okay, dia orang dapat happy ending and everybody else just doesn't matter anymore. The end.
Tema
Alright, so let's get to the more positive side. Antara tema yang dimasukkan dalam buku Nikina ni sangat menarik sebenarnya and aku percaya buku ni sangat special for the author sebab she wrote about her field. The writing and publishing world, bagi aku, sangat menarik untuk diikuti. I love it. Pastu, ada satu part ni, Nik cakap policy publishing company Kina adalah title buku mesti kena 2 words, tapi Nik nak letak one word je. So kat situ, terang-terang la symbolizes FIXI's policy, which is title boleh letak one word je. Tapi author terbalikkan policy tu dalam buku Nikina. Bila boleh relate, aku rasa bijak cara penulis masukkan benda yang kecik tapi ada impak bagi pembaca Fixi.
Another value yang penulis nak sampaikan adalah pasal perasaan anak-anak melalui keluarga dia orang. Keluarga susah dan anak banyak sangat pun akan menyebabkan anak-anak terasa hati dan terabai. Keluarga kaya tapi mak bapak sibuk je 24/7 pun anak-anak terabai, kurang kasih sayang dan perhatian. Aku suka mesej ni sebab disampaikan dalam dua sudut yang sangat berlainan and it works really well.
Of course, kita ada romance, which I didn't particularly enjoy. I felt it was cringey most of the time. Tak KIUT pun, ffs, why spell KIUT when you can spell CUTE? *sigh* Tapi chemistry antara Kina and Nik exist la. I think they could be a very cute couple if their voices were a bit different. At times, I'm just tired of hearing (something along the line) "We can always do this no matter what." Entahlah, mungkin I'm over the phase of being all lovey dovey. Insta-love is a trope where I either find it super cute or just a huge miss, untuk buku ni, huge miss. Not a fan of the insta-love in this book.
Last sekali, aku appreciate effort penulis untuk masukkan the theme of disabilities melalui Sara. Cuma aku rasa it's too weak of an attempt. Kalau nak create awareness about disabilities, I beg all authors please do your research, get it done properly, let the readers know their struggles, jangan tulis on the surface je. Disabilities and special kids deserve more than that. Coming from a person yang ada family member with disability, it's disheartening to see it's being addressed tapi tak in-depth. I appreciate it, again, but will appreciate it more kalau ditulis dengan lebih detail, instead of rushing it the way this book has done it. Antara buku yang aku rasa nailed it in writing about disabilities are A Curse So Dark and Lonely (Cerebral Palsy), Me Before You (quadriplegic), and Wonder (mandibulofacial dysostosis). Disability needs to be written so that the society knows and understands what the character WITH THE DISABILITY is experiencing and feels because it is written to acknowledge and to celebrate them.
Overall, I get that this is a romance book, memang should be what it is. Tapi it just didn't work for me. Disebabkan terlalu fokus dengan their love story, aku rasa benda lain yang lagi penting which boleh diketengahkan diketepikan. The sub-plots sebenarnya boleh dikembangkan lagi dan when that happens, aku rasa the overall plot akan actually develop dan still the author boleh fokus on the main thing which is the romance between Nik dan Kina.
English
By the time I'm writing this English review/discussion, I am already EXHAUSTED. So, I have decided to sum up most of what I've written above just to give the readers outside of Malaysia a general idea of what I feel about this book.
Character
Basically, I could say that almost all of the characters have no development. I am annoyed with Dini, he's too obsessed with Kina, our main female character. But towards the end, he was like, "She's not gonna like me so I better move on." Well, at least, his character develops a little. Kina, to me, she's opinionated, hardheaded and reckless when she was young. Then, the present her is uhm.. well, she sounds like mature adult maybe? Too plain for me to decide. Nik, the main male character, is one of the most inconsistent character I have ever encountered. He could be serious, nerdy, wise, naughty, but most of the times, he always love Kina and he doesn't have a strong stand. He's always speechless in arguments, Idk why he's created like this, maybe because he has many siblings (11 to be exact) and because of that, he has gotten his behaviours from the siblings? *shrugs* I like Huda, Nik's sister, the most because she is the most mature and wisest one among all of the characters. Last but not least, Sara, Nik's and Kina's daughter, who I could barely see in this book, she appears for a really short time. The author should have written more about her and her struggles as a character with disability, instead she's just being kept in the house, kept as secret because apparently, the parents think, "society will never understand".
Writing Style
I don't have any problem with the author's writing style. I really enjoyed her laid back kind of writing. But the problem arises when there's use of English, which in my opinion, is too formal. Because when you read a very informal kind of writing and formal English, like full perfect sentences come in between the way, it doesn't sound good. It's awkward.
Plot
The plot, for me, is flat, except for the mind-blowing plot twist and there's like another interesting fact being thrown into the book. Other than that, it doesn't go far, because we just basically go back and forth between Nik's and Kina's past and present. This is to build suspense and reveal why they separated years ago. I wasn't being excited for the plot twist, I was waiting for it to happen and it happened around page 180 out of 246 pages. Yup. But it was such a good plot twist, totally nailed it but then it didn't followed up with more in-depth story regarding their child's disability. The story continues with the most mundane and typical things that could ever be told in a story. I was hoping I could get to know how Sara feels more and to understand her world better.
Theme
Firstly, I really liked the world of writing and publishing is actually embedded in this book. I think the author has done a great job at it as she's an author herself. Then, we have the portrayal of neglected child in two very different perspectives. A poor family with too many children in one home could make a child feels neglected and not being loved enough as the parents are struggling to take care for so many kids. On the other hand, a child from a rich household is also lack of love and attention as the parents are too caught up on being busy. Hence, that is interesting to see.
Of course, we have the romance and insta-love. Insta-love usually would be a hit or a definite miss for me. This book's insta-love was a huge miss. I found that their love story is cringey. At certain points, I sorta don't care, as they keep saying, something along the line, "We can always do this no matter what." because it's tiring to hear that on repeat, like I get it, you have a great love story. Get the message! Maybe I'm over the phase of gushing over lovey-dovey scenes? I'm not sure.
Lastly, I appreciate the author's effort for including the theme of disabilities through Sara's character. But I feel like it's a really weak attempt. I beg all authors please do your research if you were to write about disabled characters, get it done properly and let the readers know their struggles. Disabilities and special kids deserve more. Coming from a person with a family member whom has disability, it's disheartening to see it's being addressed but not thoroughly. I appreciate it, again, but will appreciate it more if it's written with more detailed, instead of rushing it the way this book has done it. Some of the books that I think have nailed it in writing about disabilities are A Curse So Dark and Lonely (Cerebral Palsy), Me Before You (quadriplegic), and Wonder (mandibulofacial dysostosis). Disability needs to be written so that the society knows and understands what the character WITH THE DISABILITY is experiencing and feels because it is written to acknowledge and to celebrate them.
Overall, I get that this is a romance book but it just didn't work for me. Because of too much focus on Nik's and Kina's love story, I think other more important issues that should be addressed properly being neglected instead. The sub-plots could be developed more and that could lead to the overall plot development and the author could still find a way to focus on the romance between the two main characters.