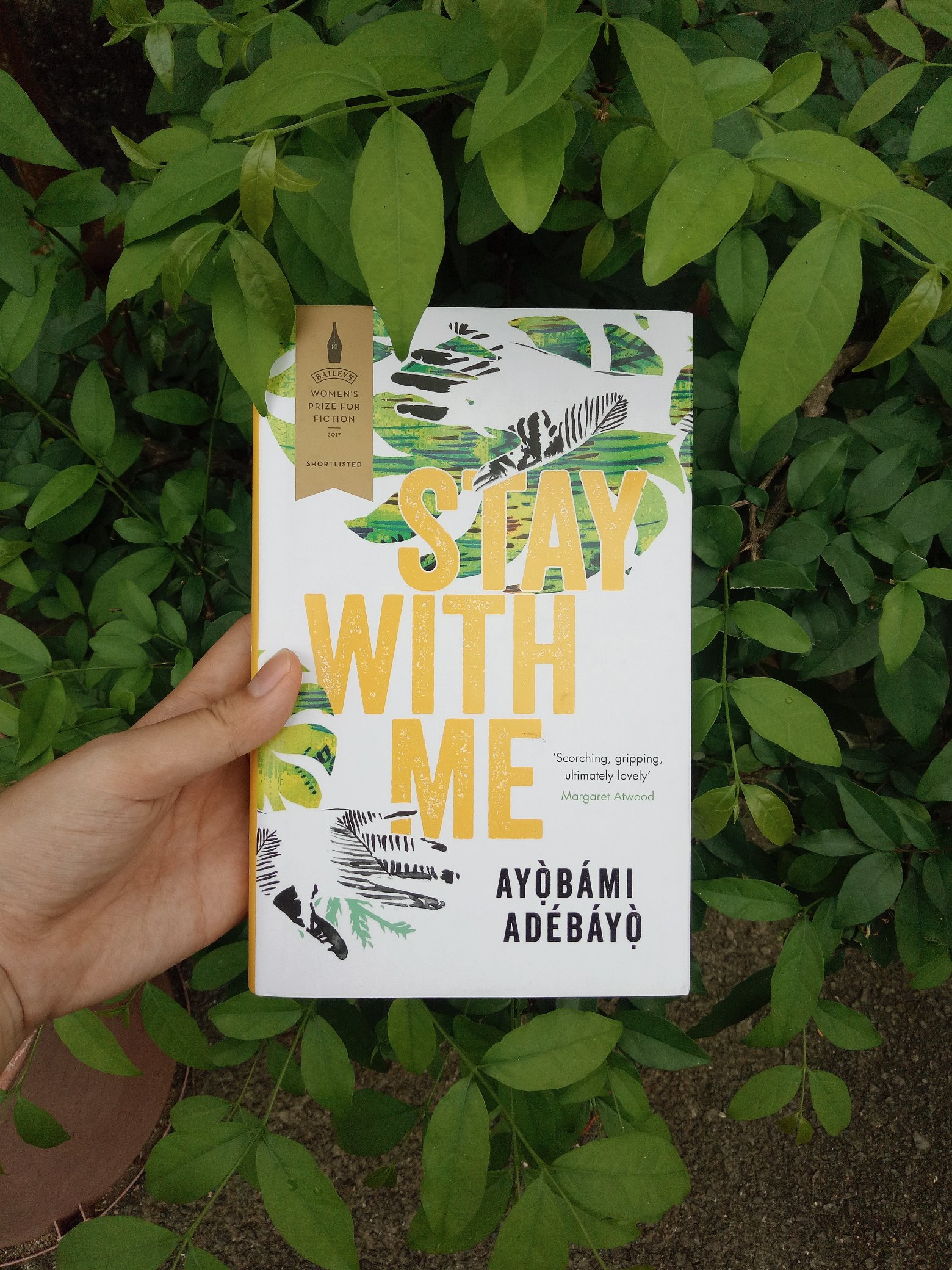 Stay With Me
Author: Ayobami Adebayo
Publisher: Canongate Books
Released: March 2nd 2017
Genre: Fiction
Pages: 298
Format: Hardcover
'There are things even love can't do… If the burden is too much and stays too long, even love bends, cracks, comes close to breaking and sometimes does break. But even when it's in a thousand pieces around your feet, that doesn't mean it's no longer love…'
Yejide is hoping for a miracle, for a child. It is all her husband wants, all her mother-in-law wants, and she has tried everything – arduous pilgrimages, medical consultations, dances with prophets, appeals to God. But when her in-laws insist upon a new wife, it is too much for Yejide to bear. It will lead to jealousy, betrayal and despair.
Source: Goodreads
I'm so glad to start off my 2021 with this brilliant novel. I love every inch of it. Shortlisted for the 2017 Baileys Prize, this book surely meets the expectation. I adore the writing style and how easy I went through each page. It is simply breathtaking and 'so well written' is not even close to describe how great this masterpiece is.
I'm amazed at how the author played with the timeline and yet it was so easy for me to grasp and not even once I was confused with the story line or the setting. The characters are very memorable, I kid you not, especially the women. It's obvious that this story is focusing on womanhood and how the society in Nigeria still expecting women to get married instead of becoming educated and they are expected to produce offspring for the family of her husband. If they are not able to do so, polygamy will be taking place and second, third and even fourth wives will happen. But eventually if a man wants to have multiple wives, the first wife with children already seemingly have no say in it. All the female characters in this book really stood out to me, it doesn't matter they are mentioned only for few pages or in only few chapters, their presence is so strong. For instance, Ajoke, Dotun's wife, whom makes appearance only in few chapters, I can still remember her and feels like I know her based on the few words she speaks to Yejide. Funmi, Akin's second wife, was a strong and resilient woman. She refused to back away and even though she may seem like an unlikable character, I think she ended up the way she because of her family and her background; she needed to fight for her rights. Lastly, we have Yejide, the main character, how she struggles to get pregnant and then having to go through child loss, one after another and eventually gives up on her last child. All the effort, pain and missed opportunities she had to go through shapes who she is later on in her life.
This novel also highlights on love, relationship and marriage. We see the ups and downs in Yejide and Akin's marriage as they struggle to have children of their own. Having to go through superstitious beliefs and ways of getting pregnant to having pseudocyesis (a condition where you're not pregnant but you think you are and even your body is showing the signs of pregnancy, but when tested, the result is negative) to adultery, their marriage was mostly based on lies and secrets. The twist the author has inserted in the novel is so effortless and I didn't see that coming at all. Plus, the twist, this secrecy is used throughout the rest of the book, it is one of the best plot twist I've ever come across in books. The way the author explains every layer of the incident is so phenomenal. One that you'd never easily forget.
"So love is like a test, but in what sense? To what end? Who was carrying out the test? But I think I did believe that love had immense power to unearth all that was good in us, refine us and reveal to us the better versions of ourselves."

― Ayọ̀bámi Adébáyọ̀, Stay with Me
Besides that, Adebayo also included the political turmoils in Nigeria between 1985 to 2008, which shed light to the situation in Nigeria. These political issues, including the voting and elections and coups that took place in the country is not being taken lightly by the author as she included them in this novel. Even it is not the main issue in this book, I could feel the seriousness of it and how the characters play their roles as the citizens and how their lives are affected by the events. It's truly amazing to see how the author weaves in all these events together and makes it work.
"The reasons why we do the things we do will not always be the ones others will remember. Sometimes I think we have children because we want to leave behind someone who can explain who we were to the world."

― Ayọ̀bámi Adébáyọ̀, Stay With Me
The last thing that I'd like to add is the significant of the title, Stay With Me. How Yejide constantly wishing for her babies to stay with her and do not die on her and how Akin wish that Yejide would always stay with him despite of his lies because he loves her more than anything else. Both of these main characters display the sense of longing, they hope people will stay by them and they fear losing their loved ones. Hence, it was pure bliss to see their characters develop throughout the story and how they carry this concept of "stay with me" as they grow older.
Overall, this book was so easy to fly by but the content and the issues highlighted are definitely heavy. Death, child loss, family pressure, feminism, politics, etc, all these are so important and for that, I'd highly recommend this book.
Thank you to Bookxcess for sending me this book in exchange for an honest review. For Malaysians, this book is still available on their website if you keen to get yourself a copy, check it out HERE!